Jonah Shepp
Cape Town, South Africa, a city of 4 million people, is just weeks away from becoming the world's first major city to run entirely out of water — but of course, it won't be the last.
South Africa's second-largest city after Johannesburg, Cape Town was not an obvious candidate for that dubious distinction. In 2014, its dams were flush with rainwater and its water-conservation strategy was award-winning. Then came the worst drought South Africa had seen in a century, lasting three whole years. Now, the Theewaterskloof Dam, the city's main reservoir, is at just 13 percent of capacity.
Climate change is obviously a factor in Cape Town's water crisis, as South Africa faces a hotter and drier future, but it's not the only one. Politics and misgovernment have played a role as well.
Even as the city government enacted its aggressive and remarkably successful water-demand-management strategy over the past decade, the national government allocated too much water to agriculture and declined to fund the development of new water sources and water recycling systems, David W. Olivier, a postdoctoral fellow at the University of the Witwatersrand, explained in December. The ruling African National Congress and the opposition Democratic Alliance, which governs the Western Cape province, have taken to playing the blame game as the crisis looms.
Cape Town's water system depends almost entirely on six dams, of which the Theewaterskloof is the largest. When supply throughout this system falls to 13.5 percent of capacity, the local government will turn off the taps throughout the city, excepting schools, hospitals, and other essential services. After "Day Zero," water, already rationed at 50 liters per person daily, will only be available at 200 collection stations throughout the city, and the ration cut by half again. Day Zero is currently forecast for sometime in May.
At the moment, Day Zero is still avoidable. Cape Town has already cut its daily water consumption significantly by lowering pipe pressure and instructing residents to conserve water, threatening fines for those who exceed the limit and publicizing household water consumption so people can find out if their neighbors are overusing. Conscientious Capetonians are currently taking measures such as bathing and doing laundry less often, limiting showers to two minutes, and recycling the water they use to wash food, do dishes, or brush their teeth as gray water for flushing their toilets.
In a deeply unequal city, home to mansions, resorts, and shantytowns alike, the impact of the shutoff will be felt very differently from one neighborhood to the next. So far, however, people appear to be banding together to keep Day Zero from happening with admirably communal spirit. If the city can hold out until the start of the rainy season in May — and if the rainy season starts on schedule — it may still escape a total shutoff. Here's hoping it does, as the consequences otherwise are practically unthinkable.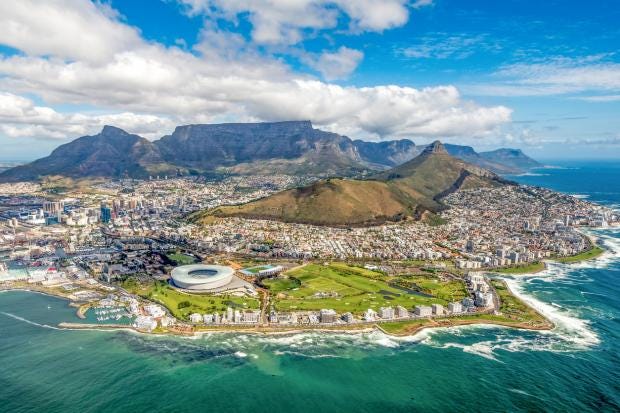 The government has warned that it will be the most serious crisis a major city has faced since World War II or the September 11 attacks. The expense and logistical challenges of delivering water via distribution centers aren't even the half of it, though: What's really got Capetonians worried is the possibility of Day Zero leading to a breakdown in social order. How does one manage a crowd of 20,000 thirsty people lining up at a collection point for water? How will the authorities police the collection of water from natural springs? What happens to people who can't get there, or have no means of carrying their water rations home? What happens when sanitation fails or diseases break out?
Nobody really knows, because no city of Cape Town's size has ever had to deal with a crisis of this magnitude. Water shortages are a familiar challenge for large cities in India, Indonesia, Mexico, and Brazil: São Paulo, a city of 12 million people, came within 20 days of a complete shutoff in 2015, but was saved in the nick of time by rains. Even that close call led to the looting of emergency water trucks. In the Middle East, home to some of the world's most water-poor countries, growing populations, overexploitation of resources, and mismanagement by authorities have led to similar crises: Conflict over scarce water resources is already a fact of life in war-torn Yemen.
As for the developed world, Australia and California are no strangers to drought: Melbourne, for example, could run out of water as soon as 2028, assuming the worst effects of climate change on supply and population growth on demand. Fortunately for Melbourne, however, it has a robust water strategy, the resources to implement it, and a government that recognizes the dangers of inaction.
California recently weathered a five-year drought without any major cities running dry, though some small, rural communities did (and Governor Jerry Brown was forced to implement the first mandatory restrictions on urban water use in the state's history). Between the success of conservation efforts and the vast, diversified network of water resources on which California cities draw, experts say it would take a much longer drought to bring about water-based anarchy in Los Angeles.
Then again, the way things are going, nobody can guarantee that such a drought won't happen, and that's the first lesson the world should heed from Cape Town: It's not a question of whether major cities will start to run dry, but rather when and where.
The other lesson is that this problem cannot be solved at the local level alone. After all, Cape Town was already doing nearly everything right when disaster struck, but was prevented from taking the measures needed to prevent this crisis by a lack of political will at the national level.
Competing local, state, and federal policies have also contributed to water-management problems in California, a problem that is only bound to get worse as Sacramento attempts to deal with climate change while Washington insists on plugging its ears and undermining any such efforts. As South Africa's missteps show, if governments don't take these threats seriously until catastrophe is on the horizon, it will be too late to do anything about it.